Image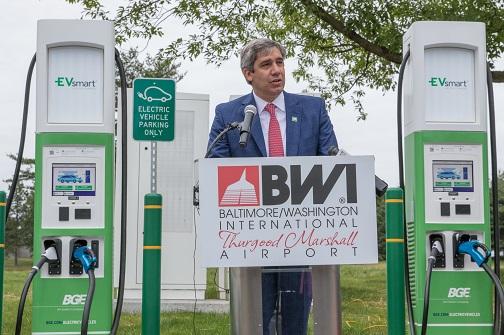 People who are picking up airline passengers from the Baltimore/Washington International Thurgood Marshall Airport can charge their electric vehicles quickly while they wait, thanks to a partnership between Baltimore Gas and Electric (BGE) and Maryland transportation leaders.
BGE installed and owns and operate four DC fast charging (DCFC) stations in the airport's Cell Phone Lot, providing up to an 80 percent charge in 15 minutes. While BGE has installed many charging stations throughout its service area, these EV fast charging stations are the first of this level of speed and capacity.
"Expanding access to electric vehicles and infrastructure is a major step toward ensuring a cleaner and brighter future for our community," said BGE CEO, Carim Khouzami. "We are excited about this first step related to our EV Rideshare Program and our public EV infrastructure rollout, and to partner with Lyft to help drivers and riders benefit from cleaner transportation."
BGE installed six additional DCFC stations in the airport's rideshare lot, where drivers for companies like Uber and Lyft wait for passengers to arrive. The airport also has ten existing EV charging stations in its daily and hourly parking garages.
These stations are part of BGE's EVsmart Program Public Charging Network, a partnership between the company and state and local governments that was created to expand access to EV charging stations throughout central Maryland. To date, 350 charging ports are live.
The EV program also provides customers with rebates, tools, and information that they need to go electric and is designed to provide access to more equitable, clean, point-to-transportation options. 
EV technology is rapidly advancing, and so is the technology for the chargers that powers them. In addition to providing charging solutions for customers, BGE also is electrifying its own fleet. The company is testing the Beam Solar Arc, which uses solar power to charge its battery, for some of its existing EV fleet.
Visit BGE's blog "EV Smart" to learn more about the company's charging network and the benefits of switching to an EV.